February 1, 2018  │ Lynn Abramson, Executive Director, CEBN
The Clean Energy Business Network (CEBN) is a group of 3,000+ business leaders working in every aspect of the clean energy economy—primarily executives of small- to medium-size companies.  After spinning out of The Pew Charitable Trusts last year to become an independent initiative of the Business Council for Sustainable Energy (BCSE), we launched a member-driven strategic planning effort to identify the major challenges facing these small energy businesses and ways the CEBN could provide assistance.
On January 31, 2018, we unveiled our new strategic vision for the CEBN and our workplan for 2018. Highlights of our 2018 priorities are provided below.  For a deeper dive, please download a copy of the CEBN's member questionnaire results, strategic plan, and a recorded briefing for members.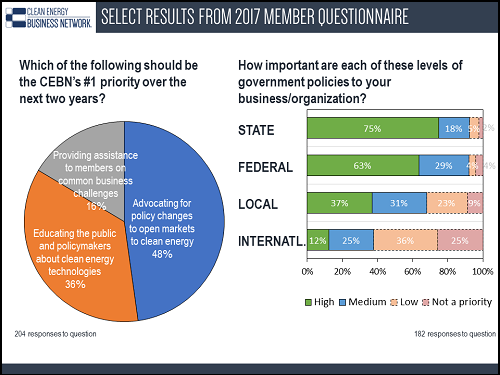 Highlights of the CEBN's 2018 priorities
1. Providing insider policy access for small energy businesses
Continuing our legacy of informing and engaging clean energy business leaders in federal policy issues impacting their industry, and introducing expanded content on state policy developments and international trade/export initiatives
Mobilizing business advocacy on major energy policy issues likely to arise in 2018, including tax extenders, budget/appropriations, grid resiliency, and infrastructure modernization
Convening 4-6 events in states and at least 1 fly-in to Washington D.C. to bring business leaders face-to-face with decisionmakers—including both federal and state policymakers where possible
Continuing to offer these policy resources on a complimentary basis throughout 2018 thanks to external support
2. Providing increased opportunities for business exposure and public education
3. Offering new premium membership options with access to business development and networking resources
Launching a public, searchable member directory (by opt-in) and helping members connect with prospective clients, investors, and partners
Introducing a private, members-only discussion platform to help businesses find prospective partners, seek advice from peers, share common policy or technical interests, or post job opportunities
Offering online courses on business, legal, finance, and management challenges facing clean energy businesses
Making these new premium membership options available by the end of Q1 2018
4. Strengthening the CEBN's relationships with Partner Organizations to enhance the mutual value to our respective members
Enhancing our relationships with state- and sector-specific energy organizations across the U.S
Collaborating on co-sponsored events, policy advocacy, recruitment, and member promotions to leverage resources more efficiently
If you're not a part of the CEBN yet, learn more about becoming a CEBN member or partner organization below and join us today!
Follow @l_abramson on Twitter to hear more from Lynn.
Follow the CEBN on Twitter, Facebook and LinkedIn to stay connected.
###
The CEBN is a group of 3,000+ business leaders working in every aspect of the clean energy economy. Our members are diverse, but predominantly C-suite executives of small- to medium-size businesses across the U.S. Started in 2009 by The Pew Charitable Trusts, the CEBN is now an independent initiative of the Business Council for Sustainable Energy, where we work to inform and engage business leaders in energy policy issues, increase public and policymaker awareness of clean energy solutions, and offer resources to help members address common business challenges. Please visit www.cebn.org to learn more about the network or to join.