Webinar Recording: ARPA-E Overview, Funding Opportunities and Advice
January 10, 2018 @ 2:30 pm

-

3:30 pm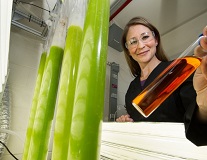 This CEBN webinar covered the Advanced Research Projects Agency-Energy (ARPA-E), a federal program that advances high-potential, high-impact energy technologies that are too early for private-sector investment.
A recording of the webinar, slides from the presentation, and other related resources can be accessed here.
Learn more about ARPA-E's mission, funding opportunities, and hear advice from prior grant recipients. If your company is early-stage, this is a valuable opportunity to gain an understanding of a rare ARPA-E open funding opportunity, (note the deadline on this opportunity is February 12, 2018).
Speakers:
Dr. Madhav Acharya serves as a Technology-to-Market Advisor at the Department of Energy's Advanced Research Projects Agency-Energy (ARPA-E). He will provide an overview of ARPA-E's mission and areas the agency has previously funded. He will also discuss ARPA-E's current funding opportunity, OPEN, which is a rare non-technology-specific solicitation occurring every three years (deadline for concept papers: Feb. 12, 2018).
This webinar also featured a panel of CEBN members previously awarded ARPA-E funding:
Dr. Tony Atti, Co-Founder, President and CEO, Phononic: Innovator of solid state solutions for cooling, refrigeration, and climate control
Rita Hansen, CEO, Onboard Dynamics: Creator of a mobile compressor unit to enable onsite fueling from natural gas distribution pipelines or renewable natural gas
Dr. Barr Zulevi, CTO and Co-Founder, Pajarito Powder: Manufacturer of catalysts and engineered catalyst supports for fuel cell electric vehicles, fuel cell systems, and electrolyzers
Webinar slides and a recording can be accessed here.